BUSINESS CARDS
An essential item for any business, regardless of size or sector. Business cards give that vital first impression.
Know what you're looking for? Get In touch!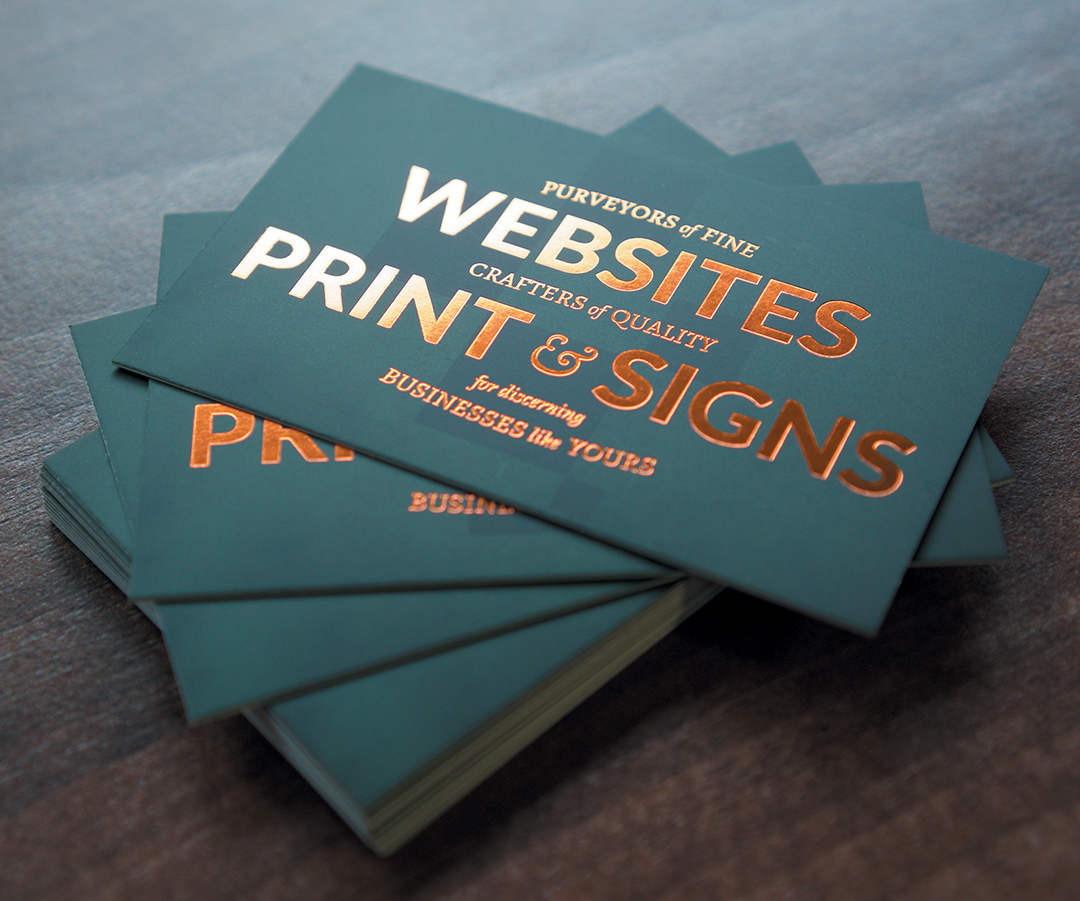 Make a great first impression
Your business card is a key tool for making a great first impression. In a world of electronic communications, business cards are a personal and tangible demonstration of how you want to present yourself to your contacts.
Your business card is also your brand ambassador when you're not around. It's a vital business tool. It helps you stay at the forefront of the minds of those people you'd love to work with.
Choosing the right business card
Whether you're looking for a classic and understated business card design or something more eccentric and elaborate, we have the right business card for you.
If you want to pull out all the stops, take a look at some of our special business card finishes. Spot UV, copper, silver and gold foiling, embossing, folding and shaped options are all available.
YOUR PERFECT BUSINESS CARD
There are 3 important considerations as well as creating the best design & content for your business card. These 3 physical factors,  combined with the visual information your card displays, all re-inforce the type of identity you want to portray to your contacts:
SELECT THE SIZE OF YOUR BUSINESS CARD
PICK ANY SPECIAL FINISHES
BUSINESS CARDS CARD STOCKS
SILK BUSINESS CARDS
Single sided or double sided, our standard silk business cards are made with a durable silk coated 400gsm weight cardstock.  Substantial and smooth to the touch, our economy business card option is professional and ever popular.
UNCOATED BUSINESS CARDS
An uncoated cardstock gives a slightly softer colour hue than silk. It's also ideal for writing on. If you're looking for a slightly softer feeling business card with a more tactile feel, an uncoated cardstock could be the best option for you.
POPULAR SIZE & SHAPE OPTIONS
STANDARD UK BUSINESS CARDS
All business cards are the same, especially if you're ordering online.
To ensure your card fits into a wallet, business card holder or folder, you need standard UK business card size; 85 x 55 mm.
ROUNDED CORNERS
Rounded corners have a softer look than the standard square-cut business cards.  They add a touch of personality and could make a big difference when it comes to making the perfect first impression and standing out from the crowd.
MINI CARDS
Like to be different? Measuring just 26 x 85mm, these slim business cards are just less then half the height of a standard UK business card. They're a great conversation starter when you hand them out and can be used for a variety of purposes.
FOLDED BUSINESS CARDS
Sometimes a standard size business card just isn't enough and you need more space. Our folded business cards give you double or even triple the impact, by adding two or even three panels to your business card design.
POPULAR BUSINESS CARD FINISHES
LAMINATION
Laminated business cards are more durable due to the additional coating on the cardstock. They also feel more upmarket than a basic card print. Gloss, matt, soft-touch & velvet lamination options are all available on our business cards, on one or both sides.
FOILING
If you want a business card with decadence, foiling is a great finishing option. Foiling adds metallic shine and suggests luxury. We have a range of foil colours, with gold, silver, rose gold and copper being most popular.
SPOT UV
Wow your customers with these business cards. Spot UV gloss adds  shine and relief to specific elements of your design, which really catch the eye. Looks great on logo motifs or larger images where a small details are highlighted.
EMBOSSING
Embossing gives a premium, tactile feel to your business card. More subtle than foiling, embossing is a premium finish that indicates quality and class without the bling of foil! Works best on single-sided designs.
We're here to help and advise you on the finishing options that will suit your business best.
Have a chat with one of the team to discuss your options.
WANT BUSINESS CARDS WITH A DIFFERENCE?
If you're looking for something completely different from the crowd, please get in touch.
Our team are happy to help and advise on giving you a business card that really sets you apart.
Already got your artwork?
If you've got business card artwork that's ready to print, great! Simply email it over to design@melbourneprint.co.uk for review and we'll get back to you to confirm the timescales and pricing. We're happy to help if you're unsure on finishing options – ask one of the team for a chat.
Need help with design?
If you need a business card that's totally unique to your business but don't know where to start with artwork, we're here to help. Please get in touch and one of the team will be in touch to learn more about what you need so we can quote you. We're here to help.
Which business card is right for me?
That's an excellent question. First of all, let us understand you and your business. Perhaps you are the type of person who'd love to show your creative side through a range of fancy finishes. Or maybe you'd prefer to let your actions do the talking and want a simple, sleek business card. Perhaps you need a durable business card that can withstand the elements.
Whatever your requirements for business cards, get in touch to discuss what style is right for you and your business. We're here to help you present your company image in just the right way.
Should I get a single or double-sided business card?
The next time you are handed a business card or a piece of marketing material, try and take note of what you do. We're willing to bet you look at the front, then flip it over to see what is on the back. Us humans are naturally curious beings.
You'll find that most of our double sided business cards are either the same cost (or only slightly more) than our single sided business cards. We can produce whatever you feel is right for your business, but we prefer not to see a side go to waste. Whether its to attract the eye, provide re-assurance or promote, if you have the space, why not use it?
Should I create my own artwork or get a designer to do it?
Maybe you're a design whizz and can do a perfectly good job, but we highly recommend getting a graphic designer to produce your business card artwork. A business card is very often one of the first impressions you give and its therefore vital that it shows you and your business at it's best.
We have a fabulous design team who can produce some fantastic designs no matter what your budget. Please ask for details.
What should my business card say?
Put simply, your card can say anything you want it to, but most importantly, business cards ensure your contact can reach out to you whenever they want or need to. Some businesses prefer to have comprehensive information and contact details, leaving nothing to chance. Whereas other businesses look for a more minimalistic design, directing contacts to their website. It really depends on your business and how you want people to engage with you.
How much information you include entirely depends on you. As a general rule, we'd recommend your name, your telephone numbers, your email address, your website and your social media details. Postal address details are also popular, especially if you want potential clients to visit or send physical items to you.
GET IN TOUCH
Tell us what you need and lets see if we can help.
Fill in the form or call us on 01332 864990 to have a chat.