EVENTS & DISPLAYS
Grab attention at your next event with our range of eye-catching display products.
Know what you're looking for? Get In touch!
Eye-catching Event
& Display Products
Create interesting and effective displays to grab attention in your displays and events.
Our friendly team are here to help and advise. Get in touch to chat about your print & design needs and lets see how we can help you with printed fabric display options.
We also have loads of signage products available.
Please get in touch to find out more.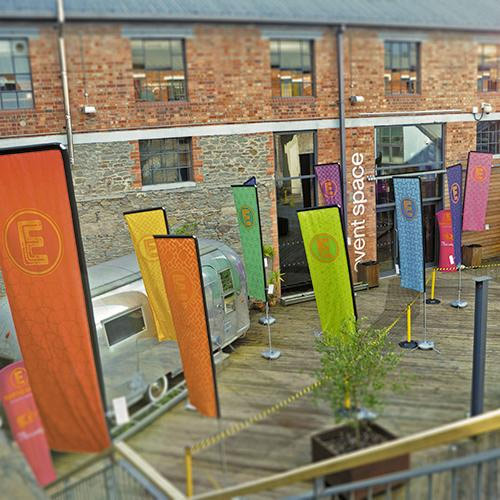 Flags
Flags are great at catching the eye. Suitable for both indoor and outdoor use, they can stand way taller than other display products and can be easily transportable. We offer a range of flags in different shapes and sizes to suit your display setting. Choose from a range of fittings to suit where your flag will be erected – from grass to tarmac or even wall-mounted.
Ground spikes are ideal for field events, we even have a "vent" fabric option for flags that are to be exposed to windier weather. This special fabric has small holes to allow stronger breezes pass through more easily.
Flag Specifications:
Quill, Empire, teardrop and wall flags designs available
Indoor and outdoor use in winds up to 15mph
A range of sizes up to 5.1 metres tall
110gsm fire retardant and fade resistant 100% 'tight-weave' polyester fabric
Full colour dye-sub print on both sides with blackout divider to restrict show-through
Washable at 30º with everyday detergent
Double-stitched hem for durability
Up to 6 month outdoor lifespan
Supplied with poles and carry case for easy assembly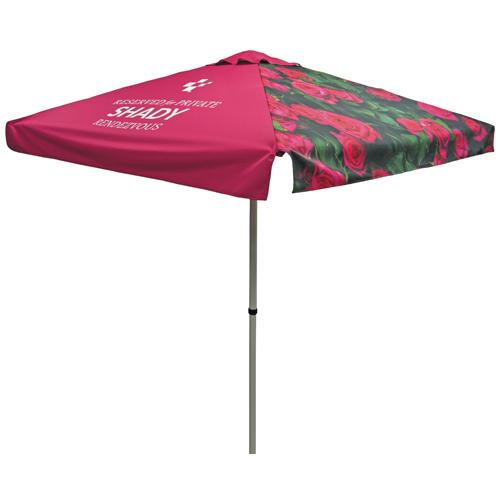 Printed Parasols
Come rain or shine, our parasols will give you ample protection from the elements. Water repellent and UV resistant, there are several parasol shapes and sizes available to fit your setting.
Each parasol can incorporate a fully printed custom design to the outside. Put on your terrace, pavement, or driveway or use outside at your restaurant, cafe or bar when you want to encourage more alfresco business. Parasols are also useful for defining your indoor spaces too in larger settings such as events.
Printed Parasols Specifications:
Dye-sub printed water resistant 285gsm 100% coated polyester
Full colour print one side
Fire retardant and fade resistant
Not machine washable
Aluminium poles
Range of bases available seperately to suit setting, please ask.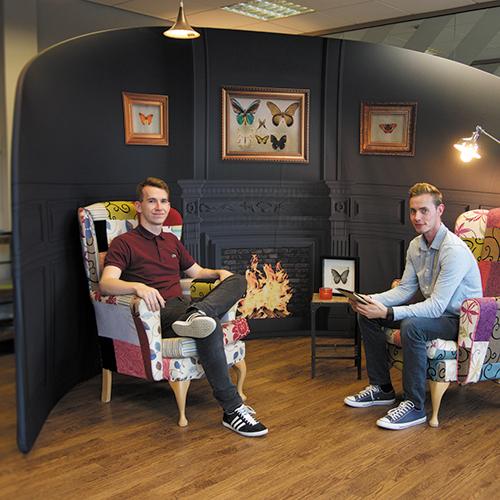 Fabric Booths
Divide up your open plan spaces with our range of fabric booths. Custom printed on both sizes with your very own designs, these booths are a great way of adding personality and structure to your offices or exhibition spaces.
There's a selection of C and J shaped booths available with varying heights.
Simply clip the aluminum frame together and stretch the fabric graphic over the frame. Zip it up and you've got an eye-catching one-piece, printed on all sides.Fabric Booth Specifications:
Dye-sub printed on 260gsm 100% 'Stretch' polyester
Assorted shapes and sizes available to suit your space
Full colour print on both sides
Washable at 30º with everyday detergent
Fire retardant and fade resistant
Supplied with aluminium frame and carry bag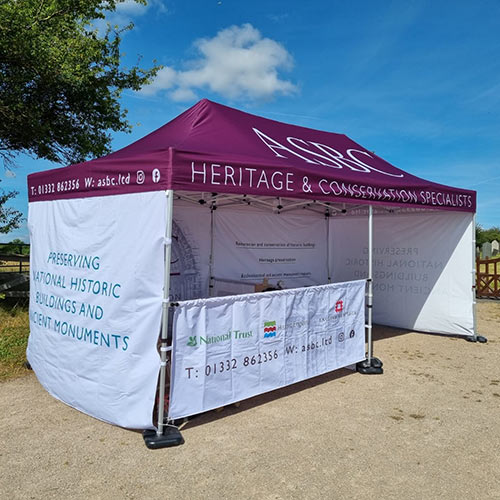 PRINTED GAZEBOS
Our range of Gazebos are versatile and portable custom print solutions and make ideal pop-up shops. Use them at festivals, fetes and farmer's markets. Although they are designed for outdoor use, they're great indoors too, as self-contained exhibition stands. There are lots of options so you can configure your gazebo exactly how you want it.

Select a size that suits your setting: 2 x 2m, 3 x 3m, 3 x 4.5m or a huge 3 x 6m. Then choose your canopy. The canopies are available in black, black with a personalised printed fascia stitched on, or fully printed. You can also decide to have printed walls, which comes in half or full size, single or double sided.
If you're having a printed fascia, canopy or walls, they'll all be printed in fade-resistant full colour inks. Go big and go bold, passers by won't be able to miss it!
Custom Printed Gazebo Specifications:
Printed gazebos available in a range of sizes
Fully custom print to roof and sides
Standard 32mm square frame or 40mm HEX frame for addtional durability
Dye-sub printed on waterproof 'Tent Fabric'
Full colour print on one side
Fire retardant and fade resistant
Not machine washable
Supplied with an easy assemble frame, carry bag, ground pegs and guide ropes
Optional extras: legs weights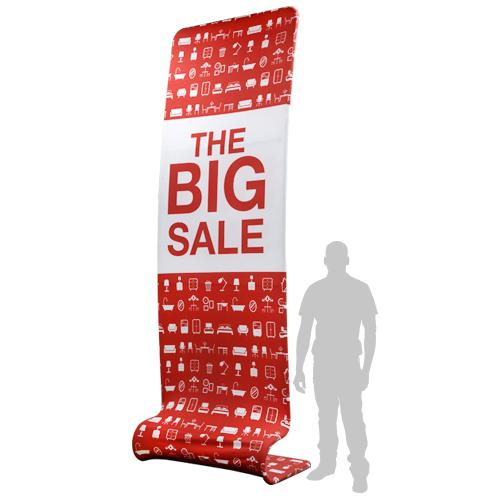 PRINTED FABRIC DISPLAYS
Our custom printed fabric displays banner stands give you a superior presence at exhibitions and are ideal for indoor displays or studio props.
Available in a range of shapes and sizes, they can be used for a variety of purposes, including navigational signage to direct customers and staff around workplaces, promotions, or beautiful interior decorations.
Display stands are made up of two main components — a strong, lightweight, aluminium frame and a printed fabric cover. The 260gsm 'stretch' fabric cover is printed on the front and reverse as standard. Designed to fit snugly over the frame, it is secured at one edge with a zip fastening. The fabric cover is washable, changeable, and additional covers can be ordered separately.
They are easy to assemble and pack back into the supplied carry bag  for easy storage, although they're so impressive you might just want to leave them up permanently.
Printed Fabric Specifications:
Dye-sub printed water resistant 285gsm 100% coated polyester
Full colour print one side
Fire retardant and fade resistant
Not machine washable
Aluminium poles
Range of bases available seperately to suit setting, please ask.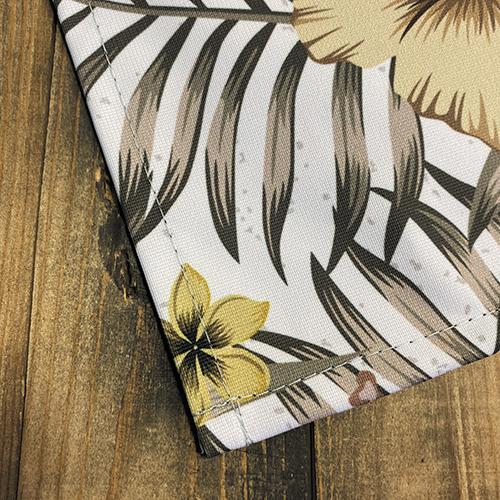 Printed Fabric
We provide a selection of printed fabrics and cloths to suit your setting, including:
Black-backed fabric: This 230gsm polyester fabric has a black reverse to minimise show-through and can be used to block out high-contrast patterned walls or light sources.
Tent fabric: This 285gsm coated polyester fabric is waterproof and is suitable for outdoor furniture use like gazebo's, deckchairs and beanbags.
Flag fabric: Create a sheer, fluttering masterpiece. This 110gsm knitted polyester fabric is lightweight and ideal for thin curtains and indoor or outdoor flags.
Stretch fabric: This 260gsm stretch polyester fabric is the material we use on our pop up display range. It's ideal for use on tensioned display stands.
Vented fabric: This 100gsm vented polyester fabric features perforations in the material to allow air to pass through more easily. Use for outdoor flags in exposed environments, building wraps and street furniture.
We also supply fully finished table cloths and runners.
Please ask the team for details.
Already got your artwork?
Need help with design?
If you need something that's totally unique to your business but don't know where to start with artwork, we're here to help. Please get in touch and one of the team will be in touch to learn more about what you need so we can quote you. We're here to help.
Want to know more about our printed events & display products?
If you're looking for something completely different from the crowd, please get in touch.
Our team are here to help and advise, please get in touch.
GET IN TOUCH
Tell us what you need and lets see if we can help.
Fill in the form or call us on 01332 864990 to have a chat.